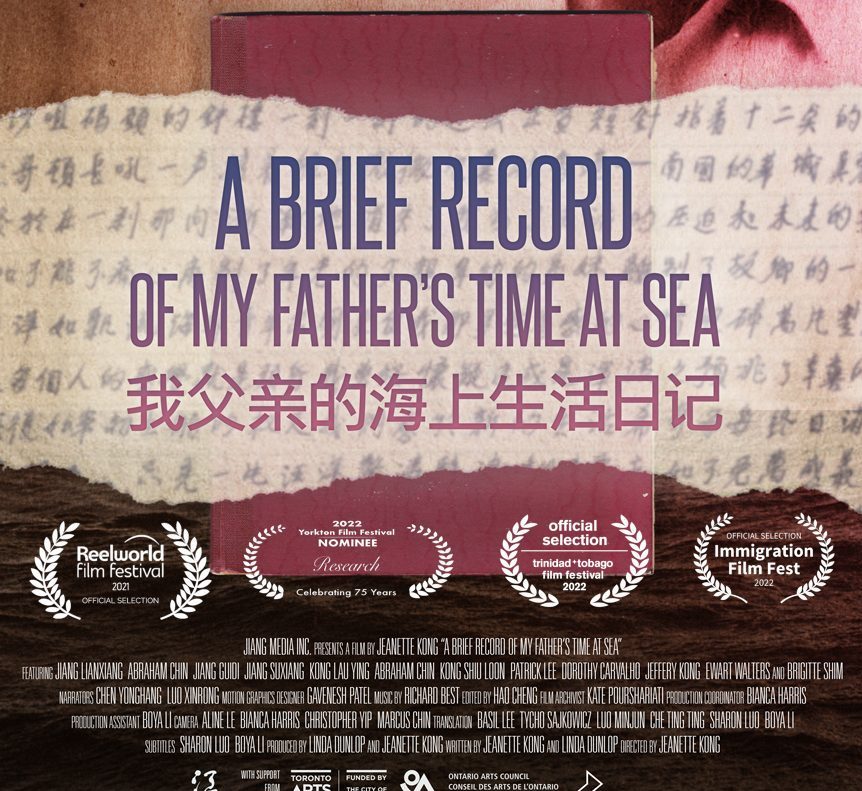 A Brief Record of My Father's Time at Sea
For educational and community purchase, please visit our distributor Collective Eye Films.
For additional queries, please fill out our contact form.
Canadian filmmaker Jeanette Kong weaves together the strands of her Chinese- Jamaican identity as she recounts her father!s immigration journey—from China to Jamaica—and then eventually to Toronto, Canada. Drawing on her dad's eloquent journal writing, and connecting with family around the globe, the filmmaker paints a deeply honest portrait of the Hakka migration experience. Why brave the hardships of immigration, not once, but twice in a single lifetime? Part personal memoir and part archival history, this is a story of courage, resilience and sacrifice: a daughter!s loving tribute to her immigrant father and to her Hakka heritage.
Central to the film!s artistry are its journal sections: first-person accounts written by Keith Kong during his 1949 immigration journey. Narrated in the Hakka dialect, these chapters reveal a richly crafted collage of vintage footage, photos and graphics set to music. Inspired by her father!s words, the filmmaker travels from Toronto to China and the US to reconnect with extended family. Gradually, the legacy of her father!s choices is revealed.
The documentary explores the influx of Jamaicans to Canada in the 1970s. Like many, the Kong family fled the island's instability and rising crime and moved to Toronto in response to Canada's open door immigration policy. In doing so, Keith and his wife reinvented themselves—not once, but twice— in two different countries. The film presents an intricately woven tapestry of history, culture and connections.
Play Trailer
| | |
| --- | --- |
| Available from Collective Eye Films | Purchase |